Become a 200hr Registered Yoga Teacher at NPYW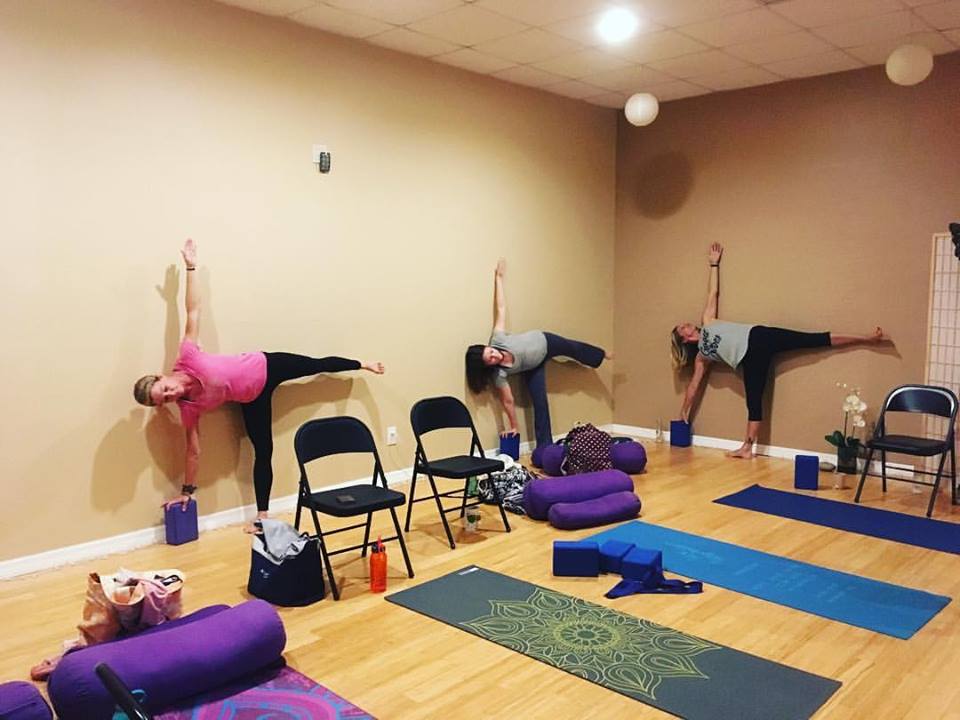 Whether you intend to teach or just want to deepen your personal practice
and understanding of Yoga, join us for NPYW's one-of-a-kind, university caliber course in yoga philosophy and methodology.
NPYW prides itself on a philosophy of inclusion, where students of every body type, experience level, and physical ability can participate in each class to the fullest extent, through custom modifications and the guided practice of self-awareness. Our 200+ hour teacher training certification aims to provide new teachers with the foundational skills to safely teach group and private yoga sessions, while honoring and imparting the ancient tradition of yoga.
Things to know ahead of time…
Typical Weekend Timeline:
Fridays – 6pm - 8pm
Saturdays – 10am - 7pm (breaks included)
Sundays – 12pm - 7:30pm (breaks included)

*Alternating most weekends, training includes nine weekends total - eight weeks of curriculum followed by final exam and graduation weekend.
Regular Enrollment: $3,200;
Early Bird Rate (contact studio for date): $2,800
*Payment plans available!

Disclaimer: Initial non-refundable deposit of $250 is required to reserve your spot. Additional payments paid in advance of the start of training will be refunded in full, minus (with the exception) of the $250 initial deposit. No refunds will be given following the start of training.
What's included in training?…
Contact Hours (180+ hours)
*NPYW exceeds Yoga Alliance standards
100% Attendance Required (limited make-up sessions available, advance notice of absence required)

Techniques, Training and Practice

Teaching Methodology and Sequencing

Anatomy & Physiology (Eastern & Western)

Yoga Philosophy/Ethics/Lifestyle

Yoga History & Literature
Non-Contact Hours (20+ hours)
*NPYW exceeds Yoga Alliance standards
Practicum hours assisting Lead Instructors in classroom

10 hours of Teaching Assistantship with NPYW instructors

Heart Project on the topic of student's choosing
Be a part of NPYW's 200-hour teacher training exploring yoga studies through philosophy, history, anatomy, asana, pranayama, mantra, and meditation. NPYW's course exceeds the minimum requirements recognized by Yoga Alliance and draws on various schools of thought to highlight the foundations of modern yoga. Students graduate with hands-on teaching experience.
More about our training…
NPYW's Strategic Director/Owner, Amy Osborne, M.A. has created a one-of-a-kind teacher training curriculum that applies knowledge learned over two years of intensive study in Yoga Studies at Loyola Marymount University along with her travel to India to inform the content presented in this course. After accepting a dream position as Program Associate at Loyola Marymount University in August/September of 2019, Amy's vision continues with colleagues and Lead Teacher Trainers, Studio Director/Co-Owner Angel Loflin, E-RYT 200, RYT 500, YACEP and Dianne Saywell, E-RYT 200, YACEP. Amy continues to share her knowledge with us traveling bi-coastal to bring her expertise in Yoga, Trauma Informed Mindfulness, Philosophy and beyond.

Plan ahead…
Upcoming Training Dates:
January 2020 through April 2020

Summer 2020 dates will be based on interest levels/requests

January 2021 through April 2021
To register for our upcoming 2020 Winter Teacher Training, click here!

Questions about what it means to be Yoga Alliance certified and how we exceed this criteria? See the full run down of criteria and benefits here, and/or contact Studio Director, Angel with questions at: info@northportyoga.org
Join us for an upcoming Info Session at the studio…